If you are interested in learning more about meat, then Simon's butchery and cookery classes are a must!  Teaming up with Lemon & Soul, Cookery School With A Twist, you will learn how to prepare and best cook various meat cuts and even leave with a full takeaway bag and tasty recipes to try at home. 
Throughout the year, we run a number of cookery classes in Southampton at our Uptons of Basset Butchers shop in Basset. The classes are usually on Wednesday evenings between 6.30pm - 9.30pm. We keep our cookery and butchery classes small and personal and we're always happy to answer any questions you may have as we go along. You will learn to cook at least two meals - one to take home and one to eat at the end of the class, accompanied by a glass or two of wine or beer. All ingredients are provided. Our cookery classes Southampton are suitable for beginners and experienced chefs alike. We have been told that our classes are great fun and a very popular Christmas or special birthday gift. 
Please see the details of our upcoming cookery school classes  below. Choose from Indian, Thai, Fish & Shellfish, Top to Tail, Sausage making, bread making and even many other cookery lessons! To find out more, please click on the course you'd like to attend below. To book, please select the cookery course below and click on the Book now button. We accept payment by most credit and debit cards. We hope to see you soon at one of our cookery courses in Hampshire.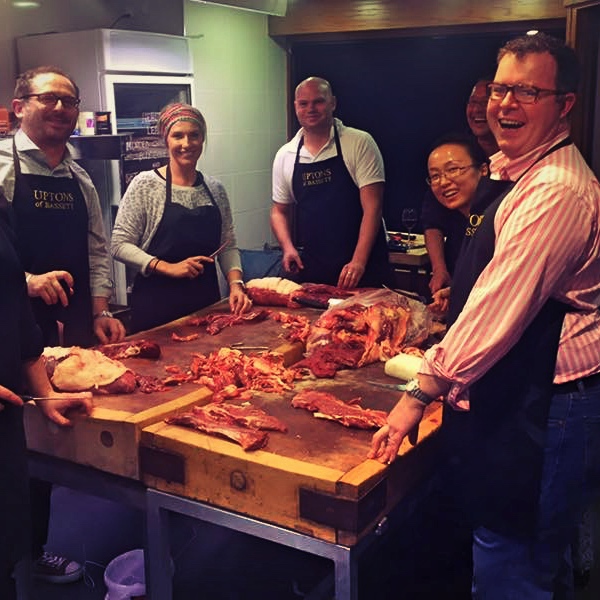 Thank you ever so much for a great evening. We both really enjoyed it and found it very useful as well - it has given us more confidence and we really enjoyed eating the results. We really appreciate the time and expertise that goes into planning and running such an event and we would definitely recommend it to anyone.
Paul Jennings
Knife Skills Masterclass
The fish preparation course I attended with my friend was excellent. I found it encouraged me and gave me confidence. I like your teaching style and your sense of humour, blended in with firm gravity and seriousness. Thank you for an enjoyable evening. I will encourage other friends to come to your teaching sessions and look at your website for catering. All the best.
Dr Larry Day
Fish Masterclass
Did the 'Top to tail' butchery course at Uptons of Bassett last night. Simon was top class, and Katarina's dinner was superb. Bloody fantastic experience, HIGHLY recommended!
James Wakeley
'Top to tail' Butchery Class
Have been on the butchery course and would recommend this to anyone, really informative, lovely food and walked away with a load of beef which I "hacked" off the bone, thanks. Also, the produce in the shop is second to none, you won't find a better butcher within 20 miles imho.
Steve Luke
Butchery Masterclass
Great evening at Knife Skills Course. Thanks Katharina and Simon.
Liz Ausden
Knife Skills Class