The quality of the products we sell is of utmost importance to us. We believe that all our meat should be traced to its source.  Which is why we buy most of our meat locally, in Hampshire, from farmers who take great care of their animals, do not feed them hormones and provide them with a good life. We visit the farms regularly and work closely with our supplier to ensure quality and animal welfare standards are adhered to. Our staff will be happy to answer any questions about the origins of the meat and its producer.
We love butchery and we love talking about it! Our experienced butchers will be happy to advise you on the best cut of meat, prepare the meat for you and recommend the best cooking method. Please come and visit us in our shop. 
We also love cooking and in May 2017, we've opened  Steak Bar in our shop in Southampton serving delicious cooked breakfast, brunch and lunch using locallly sourced high quality meat and ingredients. 
What can you find in our butcher shop in Bassett, Southampton:

Free-range meat from Hampshire including  poultry (chicken, duck, goose and turkey), pork and beef 
Game, including local venison, pigeon, wild and farmed rabbits and pheasants 
Gourmet award-winning sausages and burgers - we are proud of our large range of freshly prepared handmade sausages. Many of our sausages have won both local and national awards and prizes and we are always looking to improve our delicious range. If you are having a BBQ or a party why not order ahead and we will have your meat and sausages ready for you at the shop or deliver to your home.
Fresh and smoked fish 
Award-winning home-cured and smoked bacon and gammon 
Delicatessen - specialty cheeses, award winning pies and ready-made meals, cold meat... At Uptons of Bassett you will find specialist cured meats like pastrami and air dried ham sitting alongside our own respected range of pork pies and baked products, freshly made in our premises every day.  We offer a great selection of olives, local cheese and fresh vegetables too.
Award-winning ready-made pies, pasties, sausage rolls, pork pie and ready meals 
Gluten-free products
Watch a short video explaining how we make our award-winning sausages.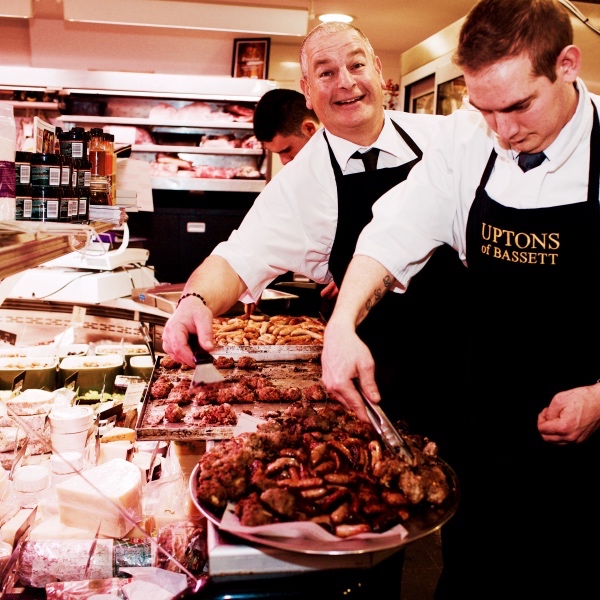 The shop looks inviting, upmarket and always well laid out with stock. The service is genuinely fantastic. I have worked in the customer service industry for 20 years, and your staff seem dedicated, knowledgeable and warm, at time giving a bit of friendly banter, which is great. There is a great selection of produce from fresh to homemade, to deli style, so most times it is a one stop shop. The produce is always of great quality. Yes you are more expensive than the supermarket, but you offer more, plus you get personal service. I like the way you will go out of your way to give the customer what they want.
I love coming to Uptons because you are all so friendly, the shop looks fantastic and you can help a rubbish cook fool her husband that she has skills that do not exist!