We offer an excellent choice of quality Christmas and New Year meats, plus an amazing range of accompanying products. Orders are taken for your main Christmas meats listed in this brochure, with all the pies, patés and cheeses you could possibly need, available in our generously stocked cabinets, on the day you collect your order.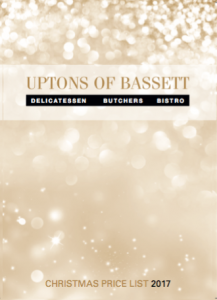 We will be taking full payment for your Christmas and New Year items on the day you place the order. In previous years this has worked well and waiting times were reduced. If you have your heart set on a particular flavour of sausage that is not on our Christmas list, please let us know as early as possible.
How to order: 
Online  –  www.uptonsshop.co.uk
Phone: 023 8039 3959 Or call into the shop anytime.
Email your enquiries to: simon@uptonsbutchers.co.uk
Last date for Christmas orders is Wednesday December 13th. 
Download UPTONS BUTCHERS CHRISTMAS PRICE LIST 2017
All our produce is freshly made with excellent ingredients, so we can make another flavour beforehand for you to freeze in time for the big day. It is worth noting that all beef and lamb purchased after 15th December can be vacuum packed for you and will stay perfectly fresh in your fridge until Christmas Day.
---
TRY OUR EXCITING NEW LINES!
Bistro specials
Here in November and December, do try our Christmas specials in the bistro: Turkey pastrami sandwiches, hearty New Forest venison ragu, and Katarina's award- Turkey pastrami sandwiches, hearty New Forest venison ragu, and Katarina's award- winning (Best in the UK) BLT croll – a delicious cross between a croissant and a roll, filled with home cured smoked collar bacon, tomato, lettuce & avocado.
Himalayan Salt Aged Beef Foreribs Himalayan Salt Aged Beef Foreribs
We age our beef ribs for a minimum of five weeks. Himalayan salt aged beef has a special tenderness and depth of flavour. Bricks of salt are used to concentrate the flavour of the meat to an intense degree. The result is exceptional beef.Please note there will be a limited last minute supply of aged beef, so please place your orders early.
CHRISTMAS OPENING HOURS
Simon and all the staff at Uptons of Bassett are looking forward to preparing your Christmas meats.